Using cutting-edge technology to achieve the best smile for you
A beautiful smile should be in perfect harmony with the rest of your face. That's why we use Digital Smile Design when you make the choice to improve and enhance your smile. We want to make sure the end result is as naturally perfect as possible.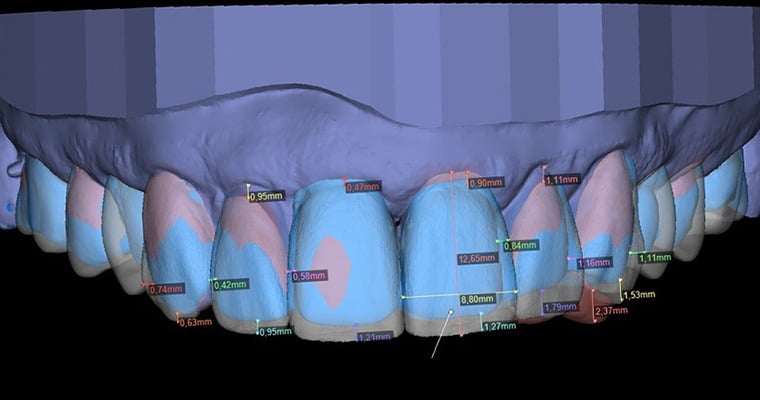 What is Digital Smile Design?
Using a combination of video capture technology and 3D scanning, we can map out how your smile will look before we get to work. Traditional dental work relies on using models of your teeth which technicians then use to create your new smile. With Digital Smile Design, our technicians know exactly how your smile looks in action so there's nothing left to the imagination. The end result is a smile that looks just as nature intended.
What do we use Digital Smile Design for?
The beauty of digital dental techniques is the flexibility. We can use Digital Smile Design for many of our cosmetic and restorative treatments. In any case where we are making a change to your smile, we can use our digital technology to give you a chance to try on your new smile before we continue with the treatment.
We use DSD for:
Crowns and bridges
Veneers
Invisalign
Implants
See Digital Smile Design in action
What is involved?
During the first appointment, we take detailed digital records which are then used to create your new smile.
We will take various photographs of you smiling and at rest, along with some short videos. At this stage, we really want to capture not only your teeth/smile but also your personality! Everyone moves differently when they speak, so it is important that we can see how your mouth moves in relation to your face when talking or laughing for example.
In addition to the photographs and video clips, we will also take an intra-oral scan of your teeth which allows the new changes to be designed with millimetric precision. Together we have the option to choose what style teeth would be most suitable for you, meaning you are the co-designer of your future smile. We will trial out your new smile to ensure you are happy with the style and shapes of your new teeth. Once you are happy, we will deliver your approved design to ensure that you receive the smile you have wished for.
Using the new digital technology, the design and manufacture is done using the highest level of precision, meaning the final restorations are exactly the same as those you tried on.
Current Smile
smile preview
Digital Smile Design
Using digital scans and DSD software, together we plan and preview the possibilities for your smile.
Faster Treatment
You can even try on your new smile and see how it looks in action, before having any treatment.
What our patients say
My teeth have undergone so much work over the years and all done by Hooman. I have followed him from surgery to surgery, and it's the best thing I've done!! He is so kind, considerate and understanding, and always takes time to talk and explain everything. I look forward to all my appointments and feel so very lucky to have crossed paths with him. P.S. thank you Hooman for being you.
the treatment I received at Glow Dental was first class. Dr Sanaty was very torough and professional in explaining what treatment I needed and how he intended to carry out the work. The equipment in the practice is very modern and Glow dental incorporates the very latest in technology to make for a pleasant dental experience. Combined with the friendly and professional manner of the front of house staff and Dental Nurses. Glow is one to recommend.
I'm absolutely thrilled with how the treatment's gone. I was promised a perfect smile (or at least as perfect as I wanted it, which means nice and natural) in six months and got it in just over five! All the other bits and pieces that needed doing were done with an expert eye to perfection. Thank you Hooman
Dr Hooman and the whole glow dental team, Thank you for the fantastic work. I have a beautiful set of teeth now which I am really proud of!! WORLD CLASS TREATMENT!!!! Many Thanks
Get in touch with us today
87 Northcote Road
Battersea,
London,
SW11 6PL
Call us today on 0207 223 7096
Wednesday:
9:00am - 8:00pm